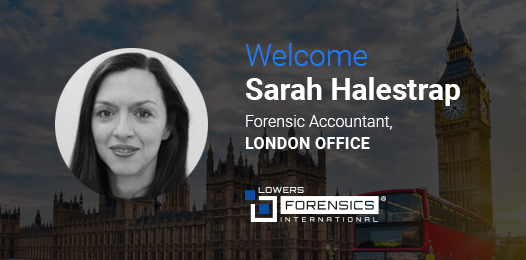 Sarah Halestrap, MCSI, LLB, LLM joins the London office of Lowers Forensics International as a forensic accountant.
October 19, 2020 (London) – Lowers Forensics International, a globally trusted forensic accounting and risk mitigation firm, is pleased to welcome Sarah Halestrap into its London office where she will bolster our staff of forensic accountants.
With more than 20 years' experience in legal and consulting, Sarah offers specific expertise in financial crime and AML regulatory compliance. She spent the past 10 years in banking as a financial crime officer, compliance officer, sanctions screening team leader, and advisory consultant on various financial crime matters including sanctions, monitoring, risk assessments, policy and procedure reviews and EDD/SAR investigations. At Lowers Forensics International, she will serve as an investigative forensic accountant providing general review of financial data, detailed analysis on complex files and communicating with clients, insureds, and adversaries, among other duties.
"We are excited to share Sarah's unique perspective and experiences with our clients as they continue to face increasingly complex financial threats and challenges alongside an ever-evolving set of compliance obligations," stated Marc Johnson, president of Lowers Forensics International.
From its London office, Lowers Forensics International specializes in insurance claims forensic accounting and consulting, offering the service of its independent and objective forensic accountants to understand the delicate balance between crisis, relationships, accuracy, and timeliness that arises during the property and casualty claims adjustment process.
About Lowers Forensics International
Lowers Forensics International is a globally trusted financial forensics and risk mitigation firm that proudly operates under the Lowers Risk Group family of companies. The firm is internationally recognized for work across a broad range of issues, including insurance claims accounting, international investigations, litigation and disputes, intelligence and security, and anti-fraud. With the expertise of its people at the forefront, Lowers Forensics applies leading-edge technology to deliver precise insight and value to clients. When it really matters, organizations put Lowers Forensics on their side. Learn more at lowersforensics.com.
Media Contact
Michael Gaul
EVP, Marketing
Lowers Risk Group
mgaul@lowersriskgroup.com
(540) 338-7151