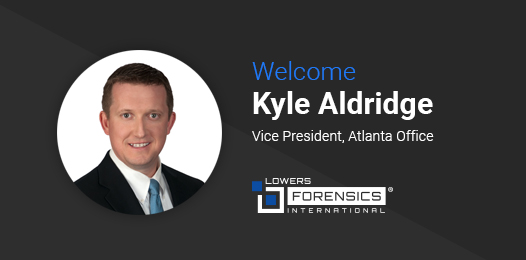 Financial forensics firm, Lowers Forensics International, announces its new office opening in Atlanta, naming Kyle Aldridge, CPA, CFF to lead client engagement in the Atlanta area and contributing throughout the southern U.S. region.
April 20, 2020 (Purcellville, VA) — Globally-recognized forensic accounting firm, Lowers Forensics International, continues its expansion with the opening of an Atlanta office and hiring of Kyle Aldridge, CPA, CFF. Kyle will lead client engagement in and around the Atlanta area and will contribute to client engagement throughout the southern U.S. through the company's Miami, Dallas, and Houston offices.
The Atlanta office represents the 11th new office opening for Lowers Forensics International since the summer of 2018.
Marc Johnson, President of Lowers Forensics International, remarks, "Kyle's experience as a CPA expert witness and concentration in investigative accounting and litigation support will benefit our clients greatly. We are proud to welcome Kyle as an effective leader and important member of our executive team."
Prior to joining Lowers Forensics International, Aldridge amassed more than 20 years of experience in the evaluation, analysis, and settlement of insurance claims, forensic accounting, and litigation support. His client work has included major property insurance companies, law firms, and corporations.
Aldridge specializes in the evaluation of damages and has handled a wide range of files related to property damage or theft, including business interruption, out-of-site and in-site inventory (stock) losses, and employee dishonesty.  He has handled a wide range of business interruption engagements spanning across multiple industries.
At Lowers Forensics International, Aldridge will focus his efforts on ensuring excellence in customer engagement and service delivery stemming from the new Atlanta office.
To reach Kyle Aldridge call (678) 784-4119 or visit lowersforensics.com.
About Lowers Forensics International, LLC
Lowers Forensics International is a financial forensics firm offering expertise in insurance claims accounting, litigation support, investigative services, and expert testimony to support organizations worldwide. The company maintains offices across the globe to serve the needs of insurance companies, attorneys, and private and public entities in order to transform complex financial information into clear evidence.
For more information about Lowers Forensics International, visit lowersforensics.com.