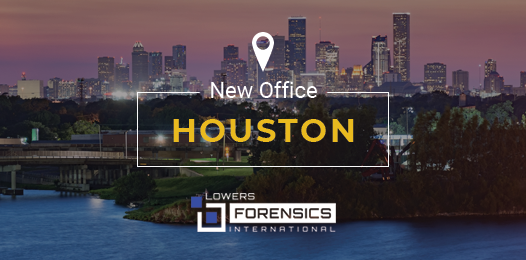 Purcellville, VA, September 12, 2018: Lowers Forensics International (LFI), a leader in financial forensics and litigation support, is pleased to announce the official opening of its Houston office. As a division of Lowers Risk Group, one of the fastest growing privately held companies in the United States, a provider of comprehensive enterprise risk management solutions, LFI brings nearly 50 years of expertise in financial forensics, litigation support, insurance claim accounting, and financial investigation services to support organizations worldwide.
Kaye Shelton, CPA, Senior Vice President of LFI Dallas office states, "I am happy to be a part of LFI's expansion into the Houston market. Our focus will be to strengthen client relationships in Houston and throughout the U.S. with exceptional service and further our expansion into the energy market."
The Houston office will be led by Tommy Lockett, CPA, who has over 20 years of commercial insurance related experience. "I am very excited to join LFI as I return to work for the insurance adjusting community in the Houston area and around the globe. The Houston office will handle insurance claims for all industries, with an emphasis on the energy market including oil and gas, power generation and renewables."
About Lowers Forensics International, LLC
Lowers Forensics International offers expertise in financial forensics, litigation support, insurance claims accounting, and investigation services. We are an internationally recognized accounting and consulting firm with offices across the United States and United Kingdom. Our broad range of expertise includes financial and data analysis, review of relevant economic issues, expert witness testimony, evidence gathering, and administrative support.
For more information on LFI, visit lowersforensics.com.
About Lowers Risk Group
Lowers Risk Group provides comprehensive enterprise risk management solutions to organizations operating in high-risk, highly-regulated environments and organizations that value risk mitigation. Our human capital and specialized industry enterprise risk management solutions protect people, brands, and profits from avoidable loss and harm. With Lowers Risk Group you can expect a strategic, focused approach to risk assessment, compliance, and mitigation to help drive your organization forward with confidence.
For more information on Lowers Risk Group, visit lowersriskgroup.com.
Contact Information:
Tommy Lockett: tlockett@lfi.spark-dev.com
Kaye Shelton: kshelton@lfi.spark-dev.com