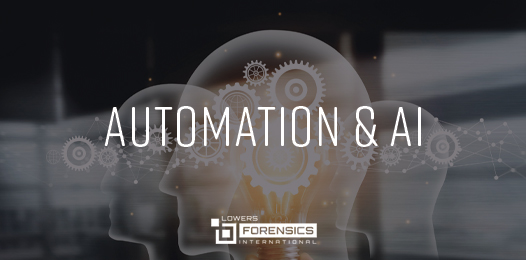 Automation and Artificial Intelligence (AI) are no longer reserved for Fortune 500 companies or highly systematized industries like manufacturing.
The insurance industry is quickly recognizing the gains these business strategies can bring. Whether it's mitigating losses, settling claims quickly and fairly, or delivering a positive customer experience, the one-two punch of AI combined with automation is driving carriers to re-evaluate their business practices.
One area that's ripe for the use of AI is the handling of Business Interruption (BI) claims.
First, Some Definitions
Terms like automation, business intelligence, artificial intelligence, big data, and analytics have some overlap and may even be used interchangeably.
For the purposes of this article, we define automation as any technology-enabled process or system (e.g., software) that functions without input from a person. For example, if a customer fills out a contact form on an insurer's website, it automatically generates a support ticket or sends that message to a designated individual.
Automation can be used in conjunction with or independently from Artificial Intelligence (AI).
AI takes things a step further. It's any technology that enables computing systems to accomplish tasks that typically require human "brain power," such as gathering data, identifying trends, making decisions, or even communicating. AI doesn't just automatically complete a process, it adds an "intelligence" component to the equation.
In the case of claims management, a system with built-in AI will recognize patterns over time. For example, that claims involving a specific type of business or industry typically settle within a designated dollar range.
AI Use Case in BI Claims Accounting
BI claims tend to be large volume, small dollar claims, yet they still demand the same accuracy, fast resolution, and positive customer experience as every other claim.
Efficient Handling of Small Claims
When faced with a large volume of claims, meeting the goals of every single client – particularly those with smaller losses – is challenging.
With the use of machine learning – a form of AI – claims management is automated. At Lowers Forensics International, we have developed a proprietary software called Stratis to automate our small claims accounting. Stratis' machine learning model uses historical data, images, and scanning techniques to quickly assess the claims data, calculating factors such as:
the severity of damages
predicted repair costs
red flags or outliers
potentially fraudulent activity
Once the model has generated an initial settlement estimate, our team reviews the data for accuracy and makes any final calculations. What once would've taken hours per case to evaluate is handled in a fraction of the time yet allows us to maintain a personal touch.
The end result is a quickly settled claim, improved profit margins, and a happy customer.
How AI Works at Lowers Forensics:

AI Is Here to Stay
The writing is on the wall. Automation and artificial intelligence are here to stay. In fact, four out of five insurance executives believe that AI will work next to humans in their organizations as a co-worker, collaborator and trusted advisor within the next two years, according to a 2018 Accenture Survey.
Those companies that can quickly adapt to AI will be the ones to reap its rewards.
If you'd like to learn more about how we can help you improve profitability and build customer loyalty with our small claims accounting platform powered by Stratis, please contact us.