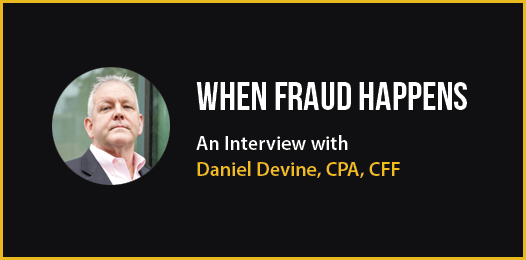 Q&A with Daniel Devine, CPA, CFF, Senior Vice President at Lowers Forensics International
Based in our Jersey City, NJ office, Daniel Devine, CPA, CFF brings more than 30 years of forensic accounting experience to major insurance carriers, law firms and corporations. One of the areas that Daniel focuses on is fraud / fidelity investigations.
We sat down with Daniel recently to talk about his work.
What do you enjoy most about working on fidelity investigations?
Let's start with what I don't enjoy. I don't enjoy seeing a business go through the devastating impact of a loss caused by fraud. Especially considering that fidelity losses are caused by the very people the company trusts most — their employees.
The reality is that fraud happens and it happens at an alarming rate.  As a professional in the field of forensic accounting, I enjoy being able to wear both my accounting and investigative hats to help businesses gain the clarity they so desperately need after a loss occurs. When I am retained to investigate a loss that involves fraud, I am looking to uncover how the fraud was perpetrated, what protocols were in place, and how those controls were circumvented.  I also assist the impacted business by making recommendations on how they can strengthen their internal controls to prevent the situation from happening again. On the numbers side, I'm looking to determine how long the accused employee was committing the fraud and how much the fraud cost the company to verify and document their insurance claim.
Most of the time my work is performed for the insurance carrier to validate a fidelity claim, in which I come in as an independent forensic accountant, but I work for companies and /or individuals themselves, prior to submission of a claim, should a policy be in place.
Is there a typical process you follow?
At Lowers Forensics International, our process really depends on the insurance carrier or subject non-insurance company that retains us and the level of support they need. Some of the smaller carriers ask that we review the claim and supporting documentation, contact the insured with any questions and assist the insured with completing a proof of loss. Additionally, when it comes to fidelity claim investigations we need to review the personnel file to confirm that the dishonest or negligent person was an employee and not a subcontractor, identify any prior acts of infidelity and confirm the accused employment period.   We also research the accused to identify any assets that may be recoverable through restitution procedures, once we have verified the alleged theft.
Forensic accounting doesn't just deal with fraud, it can also be used in other non-fraud situations. Every fraud investigation involves three simple steps; Planning the investigation, gathering the evidence (supporting documentation) and reporting the findings. Some of the accounting techniques used in the investigation include data mining, reviewing additional documentation (not part of the original claim submission) and conducting interviews.
Can you tell us about one of the most notable cases you've handled?
I worked on a case involving a major fish distribution company in Lower Manhattan. There was a manager who was getting in to work early at 4am, and generally before everyone else arrived. During this early hour, he had filled up refrigerated trucks with company inventory for actual customers that in return paid cash, which was never reported to his employer. I was brought in to do an investigation for one of the major insurance carriers responding to the claim. We worked through the numbers and found an inventory loss of a little over $1 million, which exceeded the policy limits. I then asked about cash sales, however the company claimed they didn't have any cash sales. Interestingly, I had been buying fish from this very location for a number of years and paying cash. I was even able to explain to them the physical layout of the freezer. I thought I was buying from the legitimate business entity because I was going to a window and paying cash, but I found out the inventory was not purchased on the up and up, and the business owners had no idea what was going on.
This case was notable not only because of the bold fashion in which the fraud was perpetrated but also because of the pride I took in being able to quantify the loss and help the company with its internal controls to help prevent this type of loss from occurring again.
In your experience, what is the most common control missing in cases of fraud?
The absence of a separation of duties is very common in cases of fraud. For example, a business simply cannot have the person collecting the checks be the same person who is filling out the deposit slips and performing the bank reconciliation. Lack of separation of duties is a critical error for many small to medium enterprises.
What are some 'red flags' of fraud you encourage companies to look out for?
There are a number of red flags that seem to be prevalent in many of the fraud investigation I have been involved in. Here are a few examples:
An employee living beyond their means.
The company suddenly having financial difficulties.
Material changes in expense accounts from one year to the next.
A very close relationship with a customer or vendor.
Control issues or unwillingness to share duties.
Employees that never take vacation or sick time.
I am proud to be one of the leaders of Lowers Forensics International fraud and fidelity team.
Daniel Devine and the Lowers Forensics International team are here to help you get to the truth behind the numbers. Contact us to discuss your needs.